The RYOZAN PARK share house in Sugamo is home to many unique professionals, artists, and entrepreneurs. The nature of the share house provides a unique blend of lifestyle, networking, and professional development which is difficult to find here in Japan. In January 2020 photographer Sam Spicer moved to Japan and took up residence at our share house.
While many foreigners arrive on an instructor or a specialist in humanities visa, Same arrived here on an artist visa. As of June 2020, only about 477 people were working in Japan under an artist visa. While the standard income threshold is a big requirement for the visa, those applying should also have a significant artist track record including receiving national or international awards. This month we spoke to him about his work and his journey to Japan.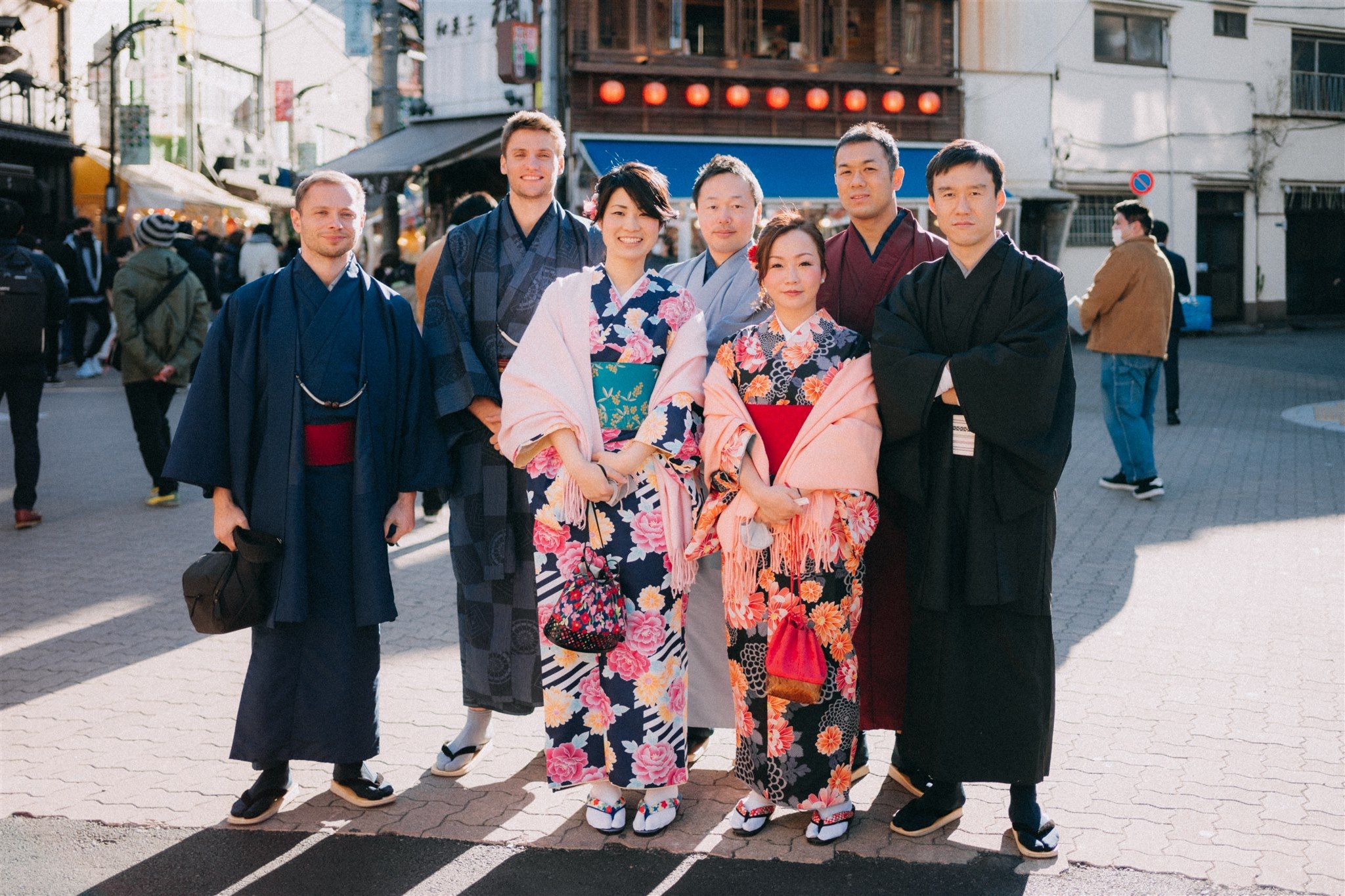 Sam (left) out on a day trip with residents from RYOZAN PARK Share House.
All photos and videos were taken by Sam Spicer Photography.
Tell us a bit about your background, Sam, how did you end up here in Japan?
Well, I'm British and I first came to Japan in 2008 on a working holiday visa. After that, I got sidetracked and went back to university in the U.K. and studied Thai language which then took me to Thailand to work for the International Red Cross. But still, I always had an itch to get back to Japan. I had such a good year during the working holiday, it was always a bit of a niggle to try and live here again, but the opportunity didn't present itself until recently.
I did try to come back in 2017 on a student visa but it turns out I was no longer the good student that I perhaps once might have been! I just couldn't deal with the full-time study and I wanted to be here on my own terms, especially since my photography business was still going well in the U.K.
It all really stems from that working holiday, which sparked things off for me. I always wanted to come back, enjoy the food, and I like the gardens and tea houses, mountains, and onsen. The general day-to-day life suits me, excluding the paperwork! I like that in Tokyo there's so much to do, but it's also very easy to get out to the countryside and mountains for a bit of hiking. I probably don't do enough of it. 
It's been quite a ride to get here. I was in the British army before this and somehow I've gone from military to humanitarian work, and now to a full-time freelance photographer specialising in weddings as well as commercial work. It's not been the easiest journey to get back to Japan, but I managed it. 
What visa are you on and how did you manage the process of getting it?
I'm on an artist visa. I went through a lawyer to get it and they initially suggested the artist visa. It's not easy to get to be honest. I was fortunate in that I had already been here on a working holiday visa and kept in touch with many people. I had a good network from the time that I was here before. While I was living in Thailand, I visited Japan many times between the working holiday and now and kept those networks active, so that helped with supporting letters which you need for the application. 
There are quite a few requirements for the artist visa. You need supporting letters, statements of intent to work that includes some figures (not formal contracts). I had to source all of those and as I mentioned, the statements came about from the connections I made during my time on the working holiday. Otherwise, I don't know how I would have done it. You also need a fair amount of savings in the bank and three years worth of history in your given profession. I had enough experience to show that I was earning money through photography in the UK and had supporting letters from my network here, and the savings from my previous work. Then I let the lawyer deal with the rest. 
Honestly, at the time I was trying to keep my expectations low. I didn't think I was going to get it but I thought that I just had to try to scratch the itch and take it off my mind. 
How long did it take? 
Apparently, it takes up to three months but I actually received the visa in three weeks! I went to Thailand to wait for the result and then soon after moved here. I've also already completed one visa extension, and I'm soon coming up to a second extension, I don't know how it's going to go. Again, I'm going to send it to the lawyer, and again, I'm going to rely on letters of recommendation from new contacts that I've made, people who I've worked for during my time here. So fingers crossed. But I think everything is in order. 
It's been very tough because of Corona. It hit my target business market directly, events and weddings, it hit me hard, so my earnings were lower than expected. But I do believe I've met the minimum threshold to support the visa extension.
I believe it is easier to go through a lawyer and I would recommend it. I don't want to deal with the hassle of going to the Immigration office and I hate paperwork so I prefer to pay for that service to have it all done for me without any second-guessing.
Any tips for people wanting to do something similar?
The lawyer will state clearly what you need to have. Primarily it's those supporting letters and three years of history in your chosen profession/artist, and having the savings in the bank definitely helps. I don't think there are any hard or fast rules on this but you probably want between £15,000-£30,000 saved up. 
Unfortunately, I think that if you're starting as a new photographer or artist and you don't have three years of history, if you're new to it, you might find it difficult to go down this route. It's not impossible, you just need to be able to satisfy certain criteria. 
I don't know how long I will be in Japan, but I'm happy to continue while I'm enjoying it here. It's not the easiest country and I'm struggling with the paperwork for the national health insurance scheme, pensions and taxes, especially if you can't read the language yet, but luckily I have people in the RYOZAN PARK community who can help me. And the positives far outweigh the struggle. I think I'd regret it if I didn't just try. 
How has RYOZAN PARK helped you?
Living at RYOZAN PARK has brought about a few new jobs and opportunities through different people in the community. I took headshots for some of the residents that they went on to use for their LinkedIn or other business-related profiles. 
There was one resident for whom I did a photoshoot which led to many other jobs which I still receive to this day, so it kickstarted a lot of networking and connections which has been great. This saved me during Corona because my original business plan was not going to plan at all! My focus was going to be on photoshoots for couples, weddings, couples who were tourists travelling here, there was really a booming opportunity, particularly with the Olympics, and it just all disappeared overnight. 
Thankfully through the RYOZAN PARK share house there was a support network to help stay positive while my business felt like it was collapsing. It also became a source for jobs that really rescued me through the tough times and now has set me up to have a better network than I ever could've imagined from when I first arrived here. I had to make a bit of effort, maybe suggest things and push a little bit to make these opportunities happen, but I think that combination of support and networking really helped. 
Some of the other things I like about the share souse are, materially, I don't really need to worry too much about cleaning which frees up more of my time to focus on business. Some of the spaces that are available have been really handy for practising skills, like using the White Room as a background for headshots. I've been able to use those spaces to my advantage. Broadly speaking, having access to the gym really helps as well and keeps me focused which carries over to my work. When I moved in, there were some great people that I could hang out with and it was good to be around people to connect with and trust. 
If you're coming into Japan fresh, it really helps to live in RYOZAN PARK initially to help set you up. You are part of a community straight away and you can explore what you're doing and maybe find opportunities to help you grow.